ATOPALM and Real Barrier products are always designed with sensitive skin in mind, but there's a step beyond sensitive skin: hypersensitive skin.
Hypersensitive skin is highly reactive and prone to feelings of dryness, tightness, itching, flaking, redness, and even burning sensations. If you suffer from hypersensitive skin, you know how difficult it is to bring health, beauty, and most of all comfort back to your skin.
It goes without saying that there is no magic regimen that will "fix" hypersensitive skin. Often, hypersensitive skin comes from a blend of genetics, hormones, external aggressors, diet, and poor topical skin care. Therefore, addressing only skin care won't be the quick fix that so many people are after.
It's important to speak with your doctor or dermatologist if you believe you're living with hypersensitive skin. Only individualized care will help you address the unique causes of your hypersensitive skin. That being said, we truly believe that ATOPALM and Real Barrier are the best skin care for hypersensitive skin when used in conjunction with proper lifestyle and dietary changes.
There are numerous possible ATOPALM and Real Barrier combinations that may work for your hypersensitive skin, but we have three featured products that we've found work best for most people with hypersensitive skin. You may add these products into your existing ATOPALM regimen, or create a brand new regimen centered around these core products.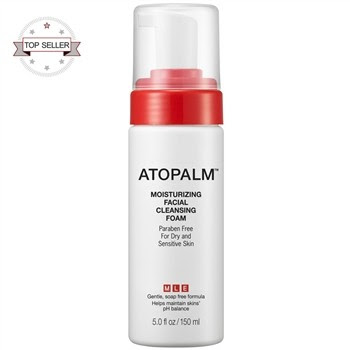 Step 1: Cleanse with Moisturizing Facial Cleansing Foam 
Atopalm Moisturizing Facial Cleansing Foam is an ultra-gentle, paraben-free foaming face cleanser designed for all skin types. Its light texture refreshes the face while efficient yet soothing ingredients lift and remove dirt, makeup, pollutants, and excess oils.
Moisturizing Facial Cleansing Foam works without upsetting the skin's natural pH balance, allowing you to cleanse without causing the skin to feel dry or tight.
Step 2: Moisturize with Aqua Soothing Gel Cream
Aqua Soothing Gel Cream is a lightweight cooling cream-gel formula containing five different forms of hyaluronic acid. Each type of hyaluronic acid aids in the delivery of moisture to the various layers of the skin, ensuring complete moisturizing.
It's also infused with specialty botanical ingredients to help soothe and calm irritation caused by stresses from the environment, all while cooling and comforting skin on contact.
Step 3: Special Care with Real Barrier Extreme Cream Mask 
This paraben-free mask is infused with panthenol to calm, madecassoside to moisturize, and allantoin to soothe. It is also enriched with dual ceramides and hyaluronic acid, which is known to bind water to the skin.
The silky micro fiber sheets help transfer Extreme Cream to the face to provide optimum moisturization while also improving elasticity.
Living with hypersensitive skin isn't easy, but we hope our proven Korean skin care for hypersensitive skin makes it just a little easier.