Whether you've bought it, made it, or only heard of it, kombucha has become a common beverage in the U.S. No longer is it a secret beloved by hippies and the health-conscious; kombucha has hit the mainstream and we're glad for it!
Kombucha is known for its slew of gut health benefits produced by the fermentation process. Fermentation is a process that has been used for thousands of years in food and drink all over the world to release nutrient properties of foods and herbs, and make them available to the body. Some other examples of fermented foods used for health include kimchi, sauerkraut, and miso.
Fermentation is generally brought on by yeast cultures, known to produce beneficial probiotics when properly fermented. Kombucha is created with sweetened black, green, or Oolong tea and combined with a starter, much like sourdough bread. Kombucha fermentation can take as little as three days, though the time it ferments is ultimately up to the person in charge of the process. The tea is mixed with sugar and a S.C.O.B.Y. starter, which stands for symbiotic colony of bacteria and yeast.
>The sweetened tea and S.C.O.B.Y are placed in a jar, covered, and left at room temperature. The warm, humid atmosphere in the jar causes the yeasts in the starter to consume the sugar and ferment the tea. After several days, the tea becomes tangy and lightly carbonated, and is now full of amino acids and gut-beneficial bacterias and oligosaccharides, such as Lactobacillus sp., Lactococcus sp., Leuconostoc sp., Bifidobacterium sp., Thermus sp., and Allobacullum sp., to name only a few of the benefits of the fermentation process.
Health-promoting catechins, flavonoids and antioxidants are already present in tea even before fermentation, so your kombucha retains these properties resulting in a potential cornucopia of health-promoting ingredients that can detoxify, balance and protect the body from the degrading effects of oxidation.
Science has shown time and again that there is a strong link between gut health and skin health, which means the same probiotics that improve gut health can also bring about health to the skin. While drinking kombucha may bring about skin health in this comprehensive way, T'else has taken it a step further by incorporating kombucha into its skin care formulations.
Introducing T'else Kombucha Essence skin care line, a range of K-beauty products designed around the health benefits of kombucha. Using kombucha extract to deliver concentrated benefits to the skin, T'else boasts an intensive blend of probiotics, oligosaccharides, polyphenols and catechins to the skin. These nutrients help reduce puffiness, calm blemish-prone skin, and brighten the overall appearance of the skin.
Additionally, triple hyaluronic acids deeply hydrate thirsty skin. Proper moisture levels are essential for overall skin health and function, so these hyaluronic acids further assist the health-boosting properties of kombucha. Adenosine targets fine lines and promotes firmer skin while citrus oils cleanse skin and provide skin care antioxidant benefits.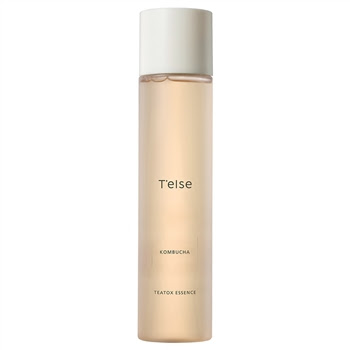 T'else 

Kombucha

 Essence
Infused with 74% 

kombucha

 extract for the calming relief of sensitive skin. It can also soothe blemish-prone skin, brighten dullness, and help reduce puffiness. Allantoin calms and revives skin while triple hyaluronic acids deeply hydrate and support skin function.RETAIL PRICE: $34.00
INTRO PRICE: $27.20

T'else Jeju Artemisia True Essence
A unique skin care product formulated using only 3 essential ingredients—JeJu Artemisia Scoparia Extract at 98% for calming nutrients and antioxidant care, Panthenol at 1.98% to provide moisturization and soothe, and 0.02% of Acrylates/C10-30 Alkyl Acrylate Crosspolymer to help control the pH level of the skin.RETAIL PRICE: $34.00
INTRO PRICE: $27.20

T'else Lavender Relief Hydrogel Mask
A hydrogel sheet made with real lavender petals for the ultimate spa-like experience. It contains 11 herb and fruit extracts, as well as panthenol to moisturize and soothe skin. After use, skin appears brighter and rejuvenated. Includes five masks.RETAIL PRICE: $34.00
INTRO PRICE: $27.20

T'else 

Kombucha

 Essense Mask
A lightweight, natural-fabric sheet mask saturated with 30% 

kombucha

 extract essence, as well as triple hyaluronic acids to deeply hydrate skin for long-lasting moisture. Allantoin soothes irritation while probiotics calm and restore sensitive skin. Includes five masks.RETAIL PRICE: $34.00
INTRO PRICE: $27.20